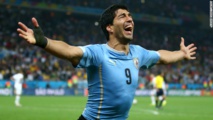 Sochi, Russia

(dpa)

-
Uruguay coach Oscar Tabarez says his side are ready to go all the way to the final after beating Portugal 2-1 in their last-16 match in Sochi.
The record Copa America champions are aiming for a third World Cup title following 1930 and 1950 and now have a match against France on Friday for a place in the semi-finals.
"We're here to play all seven matches, right up until the final," Tabarez said after Edinson Cavani's double either side of a Pepe goal sent the European champions out.
Generations of Uruguyan players have had to live with the legendary "Maracanazo" when La Celeste beat Brazil in the Maracana stadium in Rio de Janeiro in what was then the final game of the 1950 World Cup.
It was one of the biggest shocks in World Cup history and a defining moment for Uruguayan football. But it has also often been a burden for subsequent generations from the smallest country by population to have won a World Cup.
Still, Uruguay's mindset of the plucky little nation of just 3.4 million which battles to the end was very much on show in the Fisht Stadium as they defended with all they had to hold onto a 2-1 lead against Cristiano Ronaldo and his Portugal team-mates.
Defensively Uruguay look a tough nut to crack with the Atletico Madrid duo Diego Godin and Jose Gimenez linchpins in central defence. Pepe's 55th-minute header was the first goal conceded this year in seven matches.
Cavani was the standout player, scoring in the seventh and 62nd minutes, and Tabarez must now hope the Paris Saint-Germain forward recovers from a hamstring tweak which forced him off with 20 minutes remaining.
"We will see now how everything goes and we will do a study and (hopefully) we can continue," Cavani said.
With strike partner Luis Suarez, who worked hard all night, Uruguay possess a formidable attacking duo. They combined for the opening goal when Cavani played a long ball across the field to Suarez and then met the Barcelona player's long return to head in.
Cavani and Suarez, but also the likes of Godin, defender Martin Caceres and goalkeeeper Fernando Muslera, were part of the Uruguay side which reached the semi-finals in 2010 in South Africa, finishing fourth. Uruguay also have fourth places from the 1954 and 1970 World Cups.
"The distinctive feature of the game was the dedication the players showed on the pitch, and that is the way that we see football," Tabarez said.
The game also showed once again that you don't need most of the ball to win games. Portugal had 61 per cent possession to Uruguay's 29 per cent, and completed 584 passes to 266.
"There is often this mistaken assumption that ball possession leads to scoring opportunities," Tabarez said.
"I learned in Italy that was not the case. In Italy ball possession was not sanctified," he said of his time in the 1990s in charge of AC Milan and Cagliari.
"Even if you don't have ball possession you can still inflict pain on the opponent."
Tabarez, 71, took over in 2006 for his second spell as Uruguay coach, is at his fourth World Cup and led the national team to the 2011 Copa America title.
He uses crutches after being diagnosed in 2016 with Guillain-Barre syndrome, a degenerative disease that attacks the body's nervous system.
He must now prepare for France on Friday, admitting he had not seen so much of the 4-3 win over Argentina but enough to know what task lays ahead.
To work as "a collective" is "our best chance against any adversary, and we know that France will be very tough indeed," he said.
"It will be very difficult for us. But we will try our best and look to impose our way of playing on them, using our strengths."