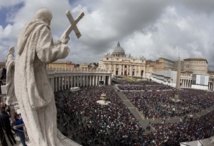 Monsignor Pietro Amenta, 55, accepted a suspended 14-month jail sentence from an Italian judge in Rome, the La Stampa and Il Messaggero newspapers reported in recent days.
On Monday, deputy Vatican spokeswoman Paloma Garcia Ovejero was only able to confirm to dpa that Amenta had resigned as a judge of the Roman Rota "a few days ago."
La Stampa and Il Messaggero said Armenta was stopped in the street by Rome police in April, after a young adult alerted officers and claimed he had just been molested by the prelate.
A day later, police found 80 pornographic images of children on Amenta's computer.
Police checks also revealed that he had been reported for obscenities in 1991 and for sexual abuse in 2004, and in 2013 had himself told police he was robbed by two transexuals, the newspapers added.
News of the plea bargain has surfaced as Pope Francis and the Vatican face renewed criticism over the decades-long, worldwide scandal of paedophile priests.
On Saturday, the pope revived a Vatican expert panel against child sexual abuse whose mandate had expired in December, amid criticism that it had achieved little in three years of work.
Meanwhile, Archbishop Charles Scicluna, a top Vatican investigator on sexual abuse, is on a mission to New York and Chile to look into allegations that a bishop covered up the crimes of a predator priest.