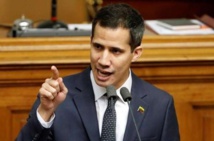 He was flanked by the presidents of Colombia, Chile and Paraguay, with whom he had earlier visited an aid collection centre from where thousands of volunteers are due to take aid supplies across the border on Saturday.
Maduro, who has resisted pressure to resign, regards the aid operation as a plot to stage a US military intervention and does not want to let it through.
The outcome of the stand-off may depend on the army, which is guarding the border.
The military has so far sided with Maduro, but Guaido said it had helped him cross the border into Cucuta.
"The armed forces participated in this process," he said.
Later Friday, Vice President Delcy Rodriguez tweeted that three bridges on the Colombian border were being temporarily closed over "serious and illegal threats" from Colombia against Venezuela.
In addition to the three Latin American presidents, US President Donald Trump's envoy Elliott Abrams flew to Cucuta to support the aid operation, broadcaster Caracol reported.
Abrams called on the Venezuelan army to heed the despair of its "brothers" in need of food and medicine, while Colombia's Ivan Duque urged the military to be "on the right side of history."
An estimated 320,000 people earlier attended a charity concert, hosted by British billionaire Richard Branson, which aimed at raising 100 million dollars for humanitarian aid for Venezuela in 60 days.
Guaido, whom dozens of countries have recognized as the country's interim leader, says hundreds of thousands of people are at risk due to food and medicine shortages.
Maduro's government meanwhile staged a simultaneous concert on the Venezuelan side of the border with the motto: "Nothing for the war."
Venezuelan broadcaster Telesur showed images of a large crowd clapping while watching local rock singer Paul Gillman, who shouted that Venezuela is "the best country in the world."
Maduro won a second term in an election boycotted by most of the opposition in May. He has presided over a massive economic crisis, with inflation running at millions of per cent, while more than 3 million Venezuelans have fled abroad.
Cucuta houses an aid collection centre storing an estimated 600 tons of food, medicine and hygiene items donated by countries including the United States, Chile and Puerto Rico.
Maduro had said he may close the Colombian border after already closing air and sea routes to the Dutch island of Curacao and the land border with Brazil, both of which are also acting as aid hubs.
Caracas is reported to have brought troops and tanks to the Brazilian border. Two people were killed in a clash between soldiers and indigenous people in the locality of San Francisco de Yuruani, Venezuelan opposition lawmaker Americo De Grazia tweeted on Friday.
The US condemned the killings, and warned that "egregious violation of human rights by Maduro and those who are following his orders will not go unpunished."
"The Venezuelan military must allow humanitarian aid to peacefully enter the country. The world is watching," the White House said in a statement.
The indigenous people had reportedly tried to stop the army from blocking a road in order to prevent the arrival of humanitarian aid.
Brazil meanwhile announced it had stored 200 tons of aid supplies in Boa Vista in the border state of Roraima. They were to be taken by truck to the border town of Paracaima in a police escort on Saturday.
It would then be Guaido's responsibility to handle the supplies, presidential spokesman Otavio Rego Barros said.
In addition to the aid deliveries, demonstrations in favour and against the aid have been called for Saturday.
UN Secretary General Antonio Guterres urged Venezuela's foreign minister in a meeting on Friday to make sure authorities do not use lethal force against demonstrators, the UN chief's office said in a statement.
Foreign Minister Jorge Arreaza told reporters the Venezuelan military "will never have orders to fire on the civilian population" and that "they are there to defend Venezuelan territory from any armed attack against our country."