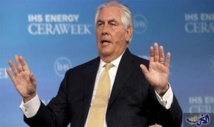 "The armed forces ratify their absolute adherence to the constitution and their loyalty to Nicolas Maduro," the army said in a Friday statement.
Defence Minister Vladimir Padrino accused Tillerson of ignoring "the tradition of the armed forces, which can never attack institutions of the state and even less, the president elected by the majority of the people."
Tillerson made the comments on Thursday before leaving for a Latin America tour, which will not take him to Venezuela.
He said the US wanted "peaceful change," according to a transcript of the comments sent by the US State Department, but "when things are so bad that the military leadership realizes... they can't serve the citizens any more," then "oftentimes it's the military that handles that."
"Whether that will be the case here or not, I do not know," he added.