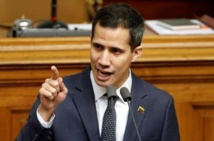 The two countries, which have not joined the large number of Latin American governments recognizing Guaido as interim president, have announced a conference of more than 10 states or organizations that have sought to remain neutral in the crisis.
The conference planned Thursday in Montevideo will work towards establishing "a new mechanism of dialogue, with the inclusion of all the Venezuelan forces," said the Mexican Foreign Ministry earlier this week.
"I want to tell you with certainty and firmness that the democratic forces, the legitimate institutions ... will not participate in conversations and negotiations which aim at keeping human rights violators in power through deceit," Guaido said in a statement addressed to Mexican President Andres Manuel Lopez Obrador and Uruguay's Tabare Vazquez.
"[We] shall only be interested in negotiations ... which allow for the handover of power to legitimate representatives of the Venezuelan people," added the statement, which was published on Guaido's Twitter account.
A political crisis in Venezuela has escalated sharply after Guaido, who heads the opposition-controlled National Assembly, declared himself interim president during nationwide anti-government protests last week.
Maduro won a second term in a May election widely seen as undemocratic. He has presided over an economic disaster, with millions of Venezuelans fleeing hyperinflation, food and medicine shortages abroad.