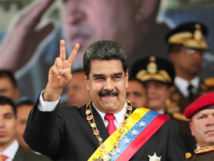 The aid deliveries would be a disguise for a US military intervention in Venezuela, Maduro told broadcaster RT, warning that imperialism only "causes deaths," as happened in Afghanistan, Iraq, Libya and Syria.
Opposition leader Juan Guaido, who has been recognized by many American and European countries as Venezuela's interim president, has requested aid as his power struggle with Maduro has intensified.
The United States has pledged 20 million dollars and Canada 53 million Canadian dollars (40 million dollars), while the European Union earmarked an additional 5 million euros (5.7 million dollars) in aid. The EU had already provided 34 million euros in 2018.
The Venezuelan army has so far not responded to calls from the opposition and American countries to side with Guaido and to allow the entry of aid.
Guaido has said that the aid will initially enter through Colombia and Brazil. The Colombian border city of Cucuta is preparing to receive aid supplies coming from the capital, Bogota, according to local media reports.
Colombia is tackling "the necessary tasks for the aid to reach the Venezuelan people," Foreign Minister Carlos Holmes Trujillo said late Tuesday after meeting his US counterpart, Mike Pompeo, in Washington.
US National Security Adviser John Bolton meanwhile met Brazilian Foreign Minister Ernesto Araujo at the White House, where they discussed the logistics for the aid.
Notepad