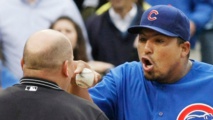 Zambrano
The court said he was suspected of involvement in an alleged coup attempt on April 30 by opposition leader Juan Guaido, who heads the assembly and who is trying to oust President Nicolas Maduro from power.
Zambrano is being held at military police headquarters in the Tiuna fortress in Caracas.
Several other lawmakers are also under investigation in connection with the alleged coup attempt. Two of them have sought refuge at the Italian embassy in Caracas and a third at the Argentinian embassy.
Pro-government paramilitary groups known as colectivos have meanwhile written threats on the walls of the homes of some lawmakers, daily El Nacional reported.
Guaido accuses the government of trying to dismantle the National Assembly. He has called nationwide rallies in support of parliament on Saturday.
The United States, one of the more than 50 countries to have recognized Guaido as Venezuela's interim president, meanwhile announced sanctions against two companies that it said have used their tankers to deliver crude oil from Venezuela to Cuba.
The US Treasury Department said it has identified two vessels owned by Monsoon Navigation Corporation and Serenity Maritime Limited as blocked property.
Treasury Secretary Steven Mnuchin said the action puts Venezuela's military and intelligence services on notice that backing the Maduro regime "will be met with serious consequences."
The US will take further action if Cuba continues to receive Venezuelan oil in exchange for military support, Mnuchin said in a statement.
The designations are a direct response to the arrest of National Assembly members and are intended to target anyone who has had a hand in Venezuela's repressive defence and intelligence sector, the statement said.
"This includes Venezuela's oil sector, which continues to be critical to the survival of the illegitimate regime of former President Maduro," according to the Treasury Department.
On April 30, Guaido announced he had won over a part of the army and called for a military uprising, but the vast majority of the military remained loyal to Maduro. The opposition has denied attempting a coup.
Maduro created a Constituent Assembly in 2017 in a bid to sideline the National Assembly. The president, who won a second term in a disputed election a year ago, has presided over a massive economic crisis.