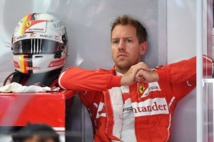 The 32-year-old Vettel left his future in the sport open while Ferrari did not immediately say who would replace him alongside impressive youngster Charles Leclerc.
Carlos Sainz of McLaren and Daniel Ricciardo of Renault have been suggested in the media while Antonio Giovinazzi of Alfa Romeo would be an outside contender.
Vettel was a disappointing fifth in the world championship last season having lost competitive title battles to Lewis Hamilton of Mercedes in the preceding two years.
Hamilton, despite previous flirts with Ferrari, has recently hinted he would like to remain with the Silver Arrows rather than follow through with a move.
"This is a decision taken jointly by ourselves and Sebastian, one which both parties feel is for the best," said team principal Mattio Binotto.
"It was not an easy decision to reach, given Sebastian's worth as a driver and as a person."
But despite the official line that the split was amicable, it completes a remarkable tumble for Vettel in a short space of time.
The F1 season has been delayed by the coronavirus pandemic forcing the cancellation or postponement of 10 races and in the enforced break Vettel said he thought a new contract could be agreed by the next race.
Instead, that next grand prix - possibly in Austria on July 5 - will herald the start of a long farewell from Ferrari and possibly the grid altogether.
"In order to get the best possible results in this sport, it's vital for all parties to work in perfect harmony," said Vettel.
"The team and I have realised that there is no longer a common desire to stay together beyond the end of this season."
Vettel said money "played no part in this joint decision." Binotto said there was "no specific reason" for the move but media reports made it clear contract negotiations were difficult.
Ferrari reportedly offered Vettel a shorter contract than the three-year deals signed previously and with lower pay.
This was in marked contrast to the lengthy agreement reached with the 22-year-old Leclerc, who many believed had already surpassed Vettel within the team hierarchy.
After two close title encounters with Hamilton, Vettel was still Ferrari's number one driver to start 2019 only for Leclerc to outscore him in wins, points and pole positions.
Tension was unavoidable as the challenger replaced the champion, culminating in an on track collision at the Brazilian Grand Prix.
"I've never learnt so much as I did with you as my teammate," the Monegasque Leclerc posted on Twitter. "Thank you for everything Seb.
"It's been a huge honour for me to be your team mate. We've had some tense moments on tracks. Some very good ones and some others that didn't end as we both wanted, but there was always respect, even though it wasn't perceive(d) this way from the outside."
Vettel won 14 races for Ferrari to rank third on the team's all-time list and no driver scored more points. Bintto said he was "already part of the Scuderia's history" and praised "his great professionalism and the human qualities."
The fact remains, however, that Vettel was hired to win the world title for Ferrari and has come up short. So far, at least.
Ferrari looked slower than Mercedes in pre-season testing and despite Binotto's belief "we can still get a lot out of this unusual 2020 season," it would be a surprise if Vettel can now earn a fifth championship in a season so far delayed by the coronavirus outbreak.
Vettel reportedly already has offers from Renault and McLaren, and can take time to reflect on his next move. He would represent a major coup for a mid-table side able to secure his signature.
"What's been happening in these past few months has led many of us to reflect on what are our real priorities in life," said Vettel.
"One needs to use one's imagination and to adopt a new approach to a situation that has changed. I myself will take the time I need to reflect on what really matters when it comes to my future."
Vettel started in F1 as a back-up for BMW-Sauber in 2007 and made his way to Ferrari via Toro Rosso and Red Bull. If he does not drive in 2021, it is likely Germany will be unrepresented on the grid for the first time since 1990.
Notepad