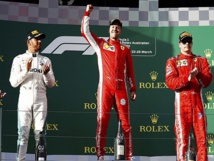 Previous standings leader Lewis Hamilton struggled all day in his Mercedes and had to settle for fifth, behind Daniel Ricciardo in the other Red Bull.
Vettel now has 121 points after seven season races with Hamilton on 120 and Bottas 86. The French Grand Prix is next on the calendar on June 24.
"To have a race like we had today is unbelievable," Vettel said in his first television interview. "After a long stretch without a win here, we're all happy.
"Everybody will have a blast tonight. [But] there's still a long way to go [in the championship]."
The 4.361-kilometre Circuit Gilles-Villeneuve has been kind to Hamilton in the past but starting from fourth, he never looked like challenging for a record-equalling seventh win in Canada.
Instead it was Vettel who dominated from the start, pulling away from Bottas and Verstappen who narrowly avoided a clash on the first lap.
Home favourite Lance Stroll was not so lucky as his Williams seemed to block out the Toro Rosso of Brendon Hartley, who rebounded off the wall into the Canadian to end both their races and bring out the safety car.
Both Red Bulls were on the quicker hypersoft tyres from the start, with Ferrari and Mercedes on ultras, but could not make their rubber advantage count.
Ricciardo passed Hamilton having pitted better on lap 18 and when Vettel finally pitted from the front after lap 37, he returned to lead Bottas by 5.7 seconds with the Finn having dived in just before.
Though the gap narrowed, Bottas made a needless 56th lap error by clipping the curb on turn one to end his slim chances and Vettel had no problem in seeing out the rest of the supposed 70-lap contest to take victory by 6.496 seconds - which ended in slight confusion as supermodel Winnie Harlow appeared to wave the chequered flag a lap too early.
It was a first win for the prancing horse team in Canada since Michael Schumacher won in 2004.
"Since lap one, they seemed to be a bit quicker," Bottas admitted. "They controlled the race and we got into a little trouble in the end with running out of fuel.
"I think this was the maximum today. From pole it could have been different, but not from P2."
Verstappen, who had been criticized for the number of crashes he had been involved in this season before the race, was content with third.
"A good race," he said. "We had to pit early as the hypersofts were pretty much gone but we had good pace on the supersofts. In the last few laps, we were really competitive."
Vettel's team-mate Kimi Raikkonen was sixth ahead Renault duo Nico Huelkenberg and Carlos Sainz while Esteban Ocon (Force India) and Charles Leclerc (Sauber) completed the top 10.
Pierre Gasly finished just outside the points after taking his Toro Rosso from the back of the grid following penalties for changing his engine.
Fernando Alonso had a disappointing 300th race in F1 as he had to retire his McLaren with exhaust failure just after halfway.
Romain Grosjean (Haas), Sergio Perez (Force India), Kevin Magnussen (Haas), Marcus Ericsson (Sauber), Stoffel Vandoorne (McLaren) and Sergey Sorotkin (Williams) all made it to the end but didn't score.
Notepad