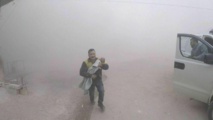 Beirut -
An aid convoy scheduled to head Thursday to the besieged Syrian opposition enclave of Eastern Ghouta near Damascus has been postponed due to fighting, an official with the International Committee of the Red Cross (ICRC) said.
In recent days, Syrian forces have advanced into Eastern Ghouta, retaking more than half of the area that was under rebel control, according to the Syrian Observatory for Human Rights, a war monitor.
"Today's convoy is postponed," Ingy Sedki, an ICRC spokeswoman in Syria, said.
"No confirmation yet when it will take place, as the situation is evolving rapidly on the ground, which does not allow us to carry out the operation in such conditions," she told dpa.
The humanitarian situation in Eastern Ghouta, home to hundreds of thousands of people, is dire, according to the United Nations and Red Cross.
The two organizations were able to bring in small amounts of aid this week, reporting hunger and shortages of medicines there.
Forces of Syrian President Bashar al-Assad have besieged Eastern Ghouta since 2013.
In recent weeks, government forces have stepped up attacks on the region amid claims of their occasional use of toxic gases there.
At least 60 people Wednesday night experienced breathing problems due to government air bombardment in Eastern Ghouta's towns of Saqba and Hammouria, the Britain-based Observatory reported without details.
Local activists cited a suspected chlorine attack there.
Eastern Ghouta is one of the last remaining areas under rebel control on the outskirts of Damascus, which is al-Assad's power seat.