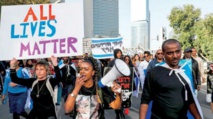 Thousands from the Ethiopian-Israeli community and their supporters blocked streets and intersections in central Tel Aviv and other spots across the country to protest excessive force and harassment by the police.
The protests turned violent in some locations, with demonstrators setting fire to vehicles and throwing objects at police officers.
At least 147 people were injured, including 111 officers, according to Israeli emergency services and the police. Some 136 protesters were arrested.
The protests caused widespread disruption on the roads, with Israeli media reporting an estimated 60,000 people stuck in traffic jams at some points.
President Reuven Rivlin and Prime Minister Benjamin Netanyahu said they understood the protesters' anger and expressed sympathy for the victim, but called for calm and dialogue to defuse the situation.
Tuesday's protests were triggered by the killing in the city of Haifa of an 18-year-old Jew with Ethiopian roots.
According to reports, an off-duty police officer intervened in a group of people who were quarrelling. The group then threw rocks at the officer. The officer said he feared for his life and opened fire. Witnesses to the incident said he was never in any danger.
At the end of 2017, according to the Israel Central Bureau of Statistics, about 149,000 Jews of Ethiopian origin lived in Israel, a country of more than 8 million people.
Many report discrimination when searching for jobs or houses, and gaps in terms of income and education compared with other segments of society remain.