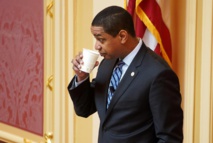 Meredith Watson accused Lieutenant Governor Justin Fairfax of "premeditated and aggressive" rape when they were both students at Duke University in 2000, according to a statement released by Watson's attorney Nancy Erika Smith and reported by multiple US media outlets.
Fairfax in a statement denied the second assault claim as "demonstrably false," US media reported.
The statement comes after Vanessa Tyson accused Fairfax of sexually assaulting her in 2004.
That allegation added fresh scandal for Democrats in Virginian politics. Fairfax is a potential replacement for embattled Governor Ralph Northam, who is facing calls to resign over a racist photograph in his 1984 medical school yearbook.
Northam denies being in the racist photo, but admitted to donning blackface to dress up as the singer Michael Jackson during a dance contest.
Virginia Attorney General Mark Herring, the state's third-ranking Democrat, has also admitted to wearing blackface.
The Virginia Legislative Black Caucus responded to the latest accusation against Fairfax by calling for him to "step down."
"While we believe anyone accused of such a grievous and harmful act must receive the due process prescribed by the Constitution, we can't see it in the best interest of the Commonwealth of Virginia for the Lieutenant Governor to remain in his role," the caucus said in a statement on Facebook.
Earlier, former Virginia governer Terry McAuliffe said the most recent allegations against Fairfax were "serious and credible."
"It is clear to me that he can no longer effectively serve the people of Virginia as Lieutenant Governor. I call for his immediate resignation," McAuliffe tweeted.
Notepad