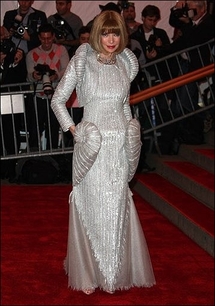 The list in the weekly's first issue for 2009 is equally merciless to other A-listers.
Janet Jackson came runner-up with a golden jumpsuit that looks like a sci-fi costume. Her fashion crime?
"The fit doesn't seem quite right," Time says -- and "she's wearing it in public."
Actress Kate Bosworth is raked over Time's coals for wearing a metallic grey Chanel dress.
"You have to feel a little sympathy," Time says. "She's going to a Chanel event as Chanel designer Karl Lagerfeld's date. It's an honor and so forth. Then he puts her in an ensemble that looks like stacked muffin tins."
-----------------------
Image of Editor-In-Chief of Vogue Anna Wintour by Andrew H. Walker.