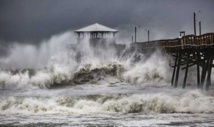 Meteorology, Climatology and Geophysics Agency (BMKG) chief Dwikorita Karnawati told reporters that a team of related government agencies had concluded the disaster that hit both sides of the Sunda Strait between Java and Sumatra was caused by multiple phenomenon.
"The tsunami was related to the volcanic eruptions. It was the indirect result of Mount Anak Krakatau eruptions," Karnawati said.
The agency initially said late Saturday that the rising waves were tidal and intensified by the full moon, but later said the waves were actually tsunami potentially linked to undersea landslides triggered by Krakatau's eruptions.
The volcano erupted at 9:03 pm (1403 GMT) Saturday and the tsunami hit the beaches in Banten and Lampung 24 minutes later.
Karnawati said authorities had recorded a volcanic tremor from the volcano which was equal to a 3.4-magnitude earthquake. The tremor caused the crater to collapse, releasing materials that covered 64 hectares of its slopes before sliding into the sea.
She added the BMKG was not able to detect the threat because its system can only identify potential tsunami caused by earthquakes, not those resulting from undersea landslides or volcanic eruptions.
More than 1,000 people were injured by the tsunami, with 57 people still unaccounted for and the death toll expected to rise, the National Disaster Mitigation Agency (BNPB) said earlier Monday.
BNPB spokesman Sutopo Purwo Nugroho added that 11,687 people have been displaced.
The devastation caused by the tsunami was spread across five districts of both provinces, with Pandeglang district on the western coast of Java the worst hit.