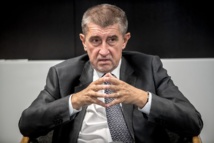 The vote, split between Friday and Saturday, ends in the early afternoon, with first indications of the result expected later in the day.
Pollsters predicted that ANO and Babis, 63, who has drawn comparisons to former Italian premier Silvio Berlusconi and US President Donald Trump, will win 25 per cent of the votes, double that of the nearest rivals, the Social Democrats (CSSD).
A record 31 different parties and 7,500 candidates are competing for the 200 seats in the country's lower chamber of parliament, the more powerful of the legislature's two bodies.
The outgoing Czech government of Bohuslav Sobotka comprises CSSD, ANO and the Christian Democrats (KDU-CSL). CSSD leader Sobotka, 45, has decided against running again due to personal reasons.
More than 8 million voters are eligible to cast ballots Friday and Saturday. Polls are open Satruday from 8 am until 2 pm (0600-1200 GMT).