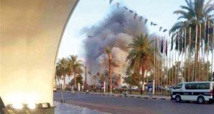 The UN agency wrote on Twitter on Sunday that at least 227 people have been killed and more than 1,125 injured in the violence.
The fighting, which has raised fears of a worsening conflict in Libya, began after the commander of the self-styled Libyan National Army (LNA), Khalifa Haftar, ordered his forces to seize Tripoli from a rival government backed by the United Nations on April 4.
Battles between both sides have since raged on the outskirts of Tripoli.
Powerful explosions, believed to be caused by aerial bombing, were heard early Sunday across Tripoli, residents said.
No casualty figures were reported.
The violence also prompted the closure of Tripoli's Mitiga airport. The facility was reopened hours later, civil aviation authorities reported.
Mitiga, which is located in eastern Tripoli, is the only functioning airport in the city after Tripoli airport was destroyed in 2014.
Haftar's offensive on Tripoli comes after his forces expanded their foothold in south-western Libya in recent months.
The 75-year-old general has portrayed the campaign as a "war on terrorism" and shrugged off calls to halt the onslaught on Tripoli.
Haftar's LNA is based in the eastern city of Benghazi, the birthplace of the 2011 NATO-backed revolt that led to the ouster and killing of long-time dictator Moamer Gaddafi.