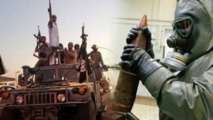 "Events involving the possible deliberate use of toxic chemicals to cause harm to Iraqi men, women and children increased substantially in northern Iraq in 2016," WHO spokesman Tarik Jasarevic told dpa.
Since March of this year, the WHO has continued to receive "sporadic but frequent" reports, particularly from the northern city of Mosul, the spokesman said without assigning blame to Islamic State or any other party to the conflict.
While one chemical attack in Mosul was widely reported in early March, the German newspaper Welt am Sonntag reported Sunday that Islamic State has allegedly used such weapons 71 times since 2014 in Iraq and Syria, according to the London think tank IHS Conflict Monitor.
On March 3, the Red Cross reported that seven patients with symptoms of likely exposure to a toxic agent were treated near Mosul, suggesting the use of chemical weapons in the fight.
In October, Iraq launched a US-backed onslaught to drive Islamic State from its last key bastion of Mosul that the radical militia had seized in 2014.
Last week, government forces started a major offensive aimed at recapturing Mosul's Old City, the last area under Islamic State control in Iraq's second-largest city.
The Iraqi forces have since seized most of the old quarter in western Mosul, a military official said on Sunday.
"Less than 1 per cent of Old Mosul remains [under militants' control," Yehia Rasoul, the spokesman for the Mosul operation, said in a statement without details.
"What we are interested in is the evacuation of citizens used as human shields by the terrorist organization," Rasoul added, according to the independent Iraqis portal Alsumaria News.
Up to 150,000 civilians are believed to be trapped in the Old City, according to a United Nations estimate.
Over recent months, Islamic State has stepped up attacks in different parts of Iraq in order to counter the Mosul campaign.
On Sunday, Iraqi Kurdish forces repulsed a counter-attack by Islamic State insurgents near the oil-rich city of Kirkuk, local security sources said.
The attack targeted the defences manned by the Kurdish Peshmerga forces in the town of al-Debs north-west of Kirkuk.
Ensuing clashes between both sides lasted for more than an hour, a Peshmerga official said.
"Two members of Daesh were killed in the fight," the official added, using an Arabic name for Islamic State.
Two Kurdish fighters were injured before the militants were forced to retreat, said the official who did not wish to be named.
Al-Debs is located around 25 kilometres from Hawija, a city that is still under Islamic State control.
The Mosul mission coincides with a US-backed offensive by local fighters in neighbouring Syria aimed at expelling Islamic State from its de-facto capital of al-Raqqa in the war-torn country.