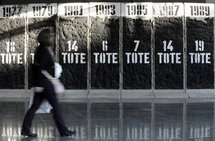 "To expand freedom to more people, we cannot accept that freedom does not belong to all people. We cannot allow oppression defined and justified by religion or tribe to replace that of (communist) ideology."
Leaders from across Europe are to join around 100,000 revellers Monday at the Brandenburg Gate, the symbol of national unity since the peaceful revolution that tore down the Wall in 1989.
German Chancellor Angela Merkel, who will also host leaders including Russian President Dmitry Medvedev, British Prime Minister Gordon Brown and French President Nicolas Sarkozy, recalled that the end of Europe's postwar rift came as an utter surprise.
"The 20th anniversary of the fall of the Wall should remind us all what incredible luck we had with the reunification of Europe and Germany," Merkel, who grew up in communist East Germany, told Monday's edition of Bild newspaper.
On the night of November 9, 1989, following weeks of pro-democracy protests, the Stalinist state's authorities suddenly opened the border.
After 28 years as prisoners of their own country, euphoric East Germans streamed to checkpoints and rushed past bewildered guards, many falling tearfully into the arms of West Germans welcoming them on the other side.
On Sunday, Germans were already out in force along the former route of the barrier which had cleaved the city in half, inspecting 1,000 giant dominoes that will be toppled as part of Monday's ceremonies.
Mayor Klaus Wowereit said the project, in which schoolchildren were among those to decorate the huge foam tiles, had helped underline the day's importance for those too young to remember it.
"History is palpable and alive here," he said. "The peaceful revolution of the fall of the Wall 20 years ago paved the way to an unprecedented transformation of Berlin."
In the run-up to the anniversary, Irish rockers U2 electrified a crowd of 10,000 at the Brandenburg Gate Thursday with a spectacular free concert that included the ballad "One", written in Berlin and partly inspired by the Wall's fall.
Artists on Friday unveiled restored murals on the longest-surviving stretch of the 155-kilometre-long (96-mile-long) Wall known as the East Side Gallery.
On Monday, Merkel will also be joined by former Soviet leader Mikhail Gorbachev, ex-Polish president Lech Walesa and German civil rights activists who will meet at Bornholmer Strasse, where hundreds of East Germans had their first taste of freedom.
Israeli-Argentinian conductor Daniel Barenboim will later lead the State Opera orchestra and choir in a concert at the Brandenburg Gate capped with fireworks and performances by German DJ Paul van Dyk and US band Bon Jovi.
France was also preparing a big celebration, with a dazzling light-and-sound show on the Place de la Concorde in central Paris.
Sarkozy shared his own memories of November 9, 1989 on his Facebook page, saying he was in Berlin and among the first to chip away at the Wall's concrete slabs.
"We then headed for Checkpoint Charlie (border crossing) to see the eastern side of the city and finally confront this wall and I was able to take a pickaxe to it," he wrote.
Meanwhile Russian Prime Minister Vladimir Putin, who was posted as a KGB agent in Dresden under communism, said he had fond memories of East Germany including learning German, mountain excursions and contacts with local agents.
"But we see how the Federal Republic (post-reunification Germany) is developing and we are happy that we have good relations on a new basis," he said. "This of course makes any nostalgia secondary."
-------------------------------------------------------------------------------------------------------------------------------
Image: AFP/John Macdougall.