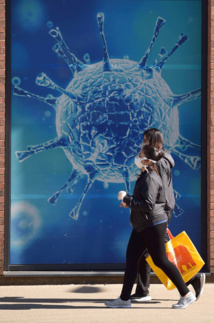 The health authorities in Germany reported 781 new infections in the 24 hours to midnight (2200 GMT) on Friday, according to the institute. The previous day the number had been 815.
This means that at least 204,964 people in Germany have been infected with the coronavirus since the beginning of the outbreak, the RKI reported on Saturday morning, while 9,118 people infected with the virus have died to date, an increase of seven compared to the previous day.
An estimated 189,800 people had recovered from the infection by Saturday morning.
The latest reproduction rate, which measures the disease's ability to spread, was 1.08, up from 0.93 the previous day, meaning that on average an infected person infects roughly one other person.
The rate, also known as the R-value, has a time lag of about one and a half weeks. The RKI has repeatedly emphasized that for the outbreak to gradually subside, the rate must remain below 1.
The RKI also measures a seven-day R-value that is less subject to daily fluctuations. The latest value was 1.16, up from 1.05.
Saxon premier Kretschmer did however sound an optimistic note in the face of the rising numbers, saying the task was now to break this second wave with the health authorities every day. "It works amazingly well," he said.
In Kretscher's view, Germany can operate much more precisely than centralized countries thanks to its federal system, which devolves health decisions to the 16 states.
Kretschmer sees the coronavirus pandemic as the first joint crisis experienced across reunified Germany. "The nice thing is that people in the East and West are ticking the same way in this crisis," he said, adding that there are no differences 30 years after the two parts of the country divided during the Cold War came back together.
"Coronavirus is the best proof that this country has grown together," said Kretschmer, a member of Chancellor Angela Merkel's Christian Democrats (CDU).
Though numbers of new cases are growing across the country, the RKI said on Friday that more than 60 per cent are due to an uptick in infections in the western state of North Rhine Westphalia and in the south-western state of Baden-Wuerttemberg.
Clusters have been traced to larger celebrations, leisure activities and places of work, or from visits to community and health facilities.
An increasing number of cases is also being traced to returning travellers, the RKI said.