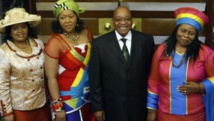 Zuma, who is facing numerous corruption charges, was due to appear in the Pietermaritzburg High Court but his lawyer presented a "sick note" claiming he was receiving medical treatment abroad.
State prosecutor Billy Dormer asked the judge to issue a warrant for his arrest, arguing that it is a criminal offence not to appear in court.
He said the defence had not presented a concrete medical report, despite being given ample time to do so.
During the broadcast judgement, Judge Dhaya Pillay said: "This court cannot do anything else but issue a warrant of arrest."
However, she said that the order would be stayed until May 6 when the trial would resume, granting the defence an opportunity to present adequate medical evidence.
The legal saga dates back to 1999 over alleged kickbacks in a multibillion-dollar arms deal. The deal, with co-accused French company Thales, was overseen by Zuma when he was vice president.
Zuma's lawyers have continued to argue that charges against the 77-year-old should be dropped due to political interference and an unreasonable delay in prosecution.
But the National Prosecuting Authority (NPA) said there was clear public interest in ensuring the prosecution, and no evidence of political motivation for the charges.
In 2007, Zuma was charged with 16 counts of racketeering, corruption, money laundering and fraud. The charges - relating to 783 payments in connection to Thales - were dropped before he became president in 2009.
In early 2018 the NPA served a fresh indictment, deciding Zuma must face trial.
Notepad