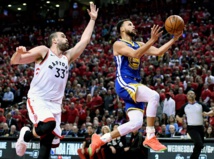 "Win or lose, I don't feel like we have to prove anything anymore," said Curry, who scored 31 points with five three-pointers. "It's just a question of can we get the job done."
"They're dangerous," Raptors star Kawhi Leonard said. "They've been here before."
Seeking their fourth title in five years, the Warriors survived the emotional losses of Kevin Durant and Kevon Looney - both of whom played but left with recurring injuries - and recovered after squandering a double-digit lead. Team president Bob Myers, fighting back tears, said Durant now has an Achilles injury after he had missed a month with a calf strain.
"It sucks," Curry said.
"On one hand, I'm so proud of them. On the other hand, I'm so devastated for Kevin," Warriors coach Steve Kerr said. "It's just a bizarre feeling that we all have right now."
The Raptors had some bizarre feelings, too. Trailing most of the way, they rallied behind Leonard, who scored 10 straight points to give Toronto a 103-97 lead with 3:28 left and send Scotiabank Arena into an anticipatory frenzy.
But the Raptors scored just two points thereafter on a goaltending violation while Curry and Thompson shot the Warriors back into the series.
I'm very proud of the way everyone fought tonight," said Thompson, who made seven three-pointers and scored 26 points. "Even going down six, three minutes left, we didn't panic. We just do what we do."
Thompson and Curry made three-pointers around a bad pass by Kyle Lowry, and Thompson drained another for a 106-103 lead with 56 seconds remaining.
"We had a big turnover when we were up three," Leonard said. "That was pretty much the ballgame right there."
"Coach Kerr drew up a couple great sets and we got clean looks, and you dont want to give us too many of those," Thompson said.
Toronto still had several chances. Spain's Marc Gasol missed a layup, but the Warriors turned it over and Lowry's drive was goaltended, making it a one-point game with 29 seconds remaining. DeMarcus Cousins committed an offensive foul, giving the Raptors a chance to win.
Lowry had an open shot in the left corner, but Green came flying across the court and got a piece of it to secure the win.
The Warriors got an emotional boost from the return of Durant, who played for the first time in 32 days and scored 11 quick points. But in the second quarter, he tried to plant on his right foot and started limping before falling to the floor.
Durant motioned to the bench and was helped off by teammates, including Curry, who walked him all the way to the locker room because "it felt right."
"He gave us what he had," Curry said. "He went out there and sacrificed his body. I just feel so bad for him."
Without Durant and Looney - who was in visible pain from his chest injury - the Warriors return home for Game 6 on Thursday. They will be riding the emotion of losing their teammates and playing the last game in Oakland's Oracle Arena as they move to San Francisco next season.
"We're trying to win this for [Durant]," Thompson said. "He's our brother."
Despite holding a 3-2 lead, Leonard knows what the Raptors are up against.
"It's not gonna be easy," he said.