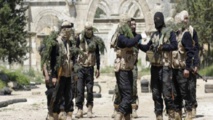 Clashes broke out on Tuesday in Syria's northern province of Aleppo, pitting Hayat Tahrir al-Sham (HTS), Syria's al-Qaeda branch previously known as the al-Nusra Front, against the Turkish-backed rebel group the National Liberation Front (NLF), the Syrian Observatory for Human Rights added.
During the fight, the HTC combatants seized from NLF the town of Daret al-Iza, the second largest in the western countryside of Aleppo, as well as two villages in the region, the Britain-based watchdog reported.
Al-Qaeda militants are seeking to tighten their grip on the ground through mop-up operations and the detention of local suspects.
Both sides brought in more reinforcements into the area on Wednesday amid heavy clashes, the monitor reported.
The battles in the last 24 hours have resulted in the killing of at least 19 HTC members, 15 from the NLF as well as five civilians, including two children, the observatory said.
HTS mouthpiece Ebaa has accused the Syrian rebels of targeting local civilians with mortar shelling.
Local activists said the al-Qaeda affiliate had taken advantage of the departure of many NLF personnel from the area for the embattled town of Manbij in northern Syria, where Turkey is preparing for a major offensive against Kurdish militias there.
Turkey has been sending troops and military hardware to areas near the Syrian-Turkish border for the operation.
Ankara deems the Syrian Kurdish militiamen as an extension of the outlawed Kurdistan Workers' Party (PKK) waging an insurgency within Turkey.