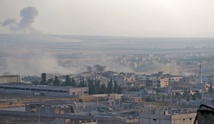 The gain is the biggest by Syrian forces since they initiated a massive military campaign more than three months ago against rebels in the provinces of Idlib and neighbouring Hama, according to the Britain-based watchdog.
"The fall of al-Habeet to the regime is significant because it brings its forces closer to Khan Sheikhoun, the biggest city in southern Idlib," observatory head Rami Abdel-Rahman, said.
"They are now about 8 kilometres from Khan Sheikhoun and are advancing towards it," he added.
Abdel-Rahman told dpa that the control of al-Habeet also allows the government forces to tighten the noose around rebel areas in the northern countryside of Hama.
In late April, the forces of the Syrian President Bashar al-Assad, supported by air power from allied Russians, started a wide-scale offensive against rebels in Hama and Idlib that has since displaced some 400,000 people, according to UN estimates.