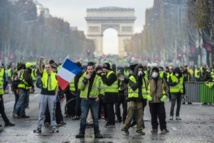 About 100 people gathered in Strasbourg on the Europe Bridge near the German border on Saturday, causing temporary disruption to travel until security forces arrived, radio broadcaster FranceInfo reported.
In the southern city of Perpignan a 36-year-old motorist died of his injuries after hitting a lorry taking part in the protests on Friday evening.
Traffic was slowed on a motorway in the south-west near the border with Spain.
The nationwide demonstrations have appeared to lose momentum in recent weeks.
On Friday France's parliament approved a spending package meant to placate the Yellow Vest protesters. The legislation calls for overtime pay to be exempt from taxes and ancillary employment costs from next year.
The protests have been a weekly occurrence since mid-November and led to violent scenes in the heart of Paris.