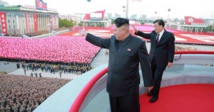 "In light of the once-unimaginable prosperity and partnership we have with Vietnam today, I have a message for Chairman Kim Jong Un: President Trump believes your country can replicate this path," said Pompeo.
Once a wartime foe of the US and an ally of the Soviet Union, Vietnam, which normalized relations with the US in 1995, today pursues market economics and enjoys warm ties with Washington. It is also one of the fastest growing economies in the world.
And in stark contrast to Kim's bellicose threats to nuke American soil, Vietnam and the US are now strategic partners, with both hoping to challenge China's ambitions to control the South China Sea.
Le Dang Doanh, a retired economic advisor to five Vietnamese prime ministers, says North Korea is similar to Vietnam in the 1980s, which also had a centralized economy prior to 1986, when a series of economic reforms known as "doi moi" were rolled out.
"The challenges of the North Korean economy is in a certain sense similar to Vietnam, but the [conditions] are different," said Doanh, adding that North Korea's nuclear weapons programme was unlike anything Vietnam had ever attempted.
"North Korea is a nuclear [state], and they want to negotiate, to bargain on the strong position, and the US maybe doesn't want to accept it," he added.
Nonetheless, added Doanh, North Korea has maintained interest in learning from Vietnam. Doanh himself has twice been invited to speak to North Korean delegations in Hanoi to provide economic guidance.
Carl Thayer, an emeritus professor at the University of New South Wales and an expert on Vietnam, said Vietnam's past war with the US and subsequent sanctions were relevant to North Korea today.
"Vietnam has relevant historical experience that it could share with [North Korea]: how it negotiated an end to the US embargo and normalized relations, how to address war legacy issues, how to open the economy to foreign investment, the legislative framework for joint ventures, how to negotiate a free trade agreement, etcetera," he said.
But Michael Mazza, a US defence scholar at the Washington-based American Enterprise Institute, said he was not convinced that Kim was serious about reform.
"Secretary Pompeo may be sincere about holding up doi moi as a useful model for North Korea, but in my opinion nothing we have seen to date suggests Kim is interested in a serious reform effort," he said.
Unlike Vietnam, where the ruling Communist Party undergoes frequent changes in leadership, North Korea's ruling clique's main priority, Mazza said, is preserving the Kim family's hold on power, which has controlled the country since its founding in 1948.
"Political power in North Korea is highly centralized in a single person, and that person and his family do not appear to face significant challenges from potential alternative power centres," said Mazza.
Doanh said that Vietnam also had the benefit of reunification at the end of the Vietnam War in 1975, which saw the communist north take over the capitalist south.
"The south had a flourishing market economy and that is why the lesson, the experience to move to a market economy, was very easy," said Doanh, adding that North Korea has no capitalist experience to lean on.
"Reform in North Korea is maybe a little bit different because the leadership so far doesn't understand the market economy from their own experience," he said.
"The best way is to ... let them test and learn from the market reforms in other countries," he added.
Notepad