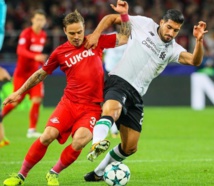 Berlin

(dpa)

-
Should Mario Mario Goetze feature in Tuesday's Bundesliga topper between Borussia Dortmund and his former club Bayern Munich it would be big surprise.
The 27-year-old was an unused substitute one again on Saturday when Dortmund won 2-0 at Wolfsburg, shortly after sports director Michael Zorc had told Sky TV that Goetze's contract would not be renewed beyond the season.
Goetze has rarely played since Lucien Favre became Dortmund coach in 2018.
Some have said that the once so promising career took a nose dive after his biggest moment - scoring Germany's winner in the 2014 World Cup final against Argentina in Rio de Janeiro's mythical Maracana stadium.
While Goetze's first departure from Dortmund, to Munich in 2013 before a 2016 return, was front-page news around the country, Saturday's announcement was almost a footnote.
"It wasn't a a surprise at all," the Sueddeutsche Zeitung (SZ) said on Sunday, buried in their match report. Kicker sports magazine said that "everything had pointed in the direction of going separate ways."
It was not mentioned at all on Dortmund's website, and Goetze himself is also yet to comment to the millions of followers on his social media platforms.
The big question is where Goetze will go now - the player once hailed as a super-talent when he made his Bundesliga debut in Dortmund at age 17 in 2009, and famously told by Germany coach Joachim Loew that he should show he is better than Lionel Messi before coming on in the World Cup final.
"It is in his interest that he is looking for a new adventure, perhaps abroad. We'll see," Zorc said.
Italian clubs are said to be interested but it appears clear that Goetze can not expect to land a deal at another top club.
Former Germany captain Lothar Matthaeus said Saturday as a Sky TV pundit that Hertha Berlin, with their ambitious investor Lars Windhorst and new coach Bruno Labbadia who has won his first two games, could be a domestic option.
Hertha Berlin general manager Michael Preetz said that Juergen Klinsmann was looking at a possible signing of Goetze during his short tenure at the club but it never materialised.
"If he should stay in the Bundesliga, Hertha BSC, this idea has a charm. He can increase the quality at Hertha," Matthaeus said.
"He'll have to give up a bit of a salary. But I don't think that hurts him. He has earned well in the past ten years, he won us the World Cup, he has won four or five German championships. He also has a success story behind him."
Goetze is among the top earners in Dortmund and would almost certainly have to give up a substantial part of his earnings elsewhere.
Below-par form, injuries and not fitting into Favre's game plan has made life difficult for Goetze to prove himself for future employers.
He has been a starter in just four of the 27 league matches this season, and an unused substitute in 14 others as Favre said Friday that his 3-4-3 formation "is not the ideal formation for him. You have to tell the truth there."
The coronavirus pandemic has made things even more complicated.
But before he leaves Zorc believes that Goetze "will still be important to us this season," with the SZ wondering: "Maybe as early as Tuesday?"