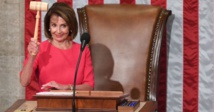 As Democratic leaders and rank-and-file members continue blasting the Trump administration, accusing it of being dug in and unwilling to move from President
Donald Trump's
demand for 5.7 billion dollars for a southern border wall, the
White House
is doing what it often does: punching back.
First came word of a presidential visit Thursday to the
U.S.
-
Mexico
border to meet with federal law enforcement personnel. Then the
White House
announced Trump's first
Oval Office
prime-time address on Tuesday night, to discuss what the administration says is a "crisis" at the border.
The
White House
also deployed Trump's designated lead negotiators in talks with senior Democratic congressional aides for an hour-long discussion with reporters: Vice President
Mike Pence
, Homeland Security Secretary Kirstjen Nielsen and
White House
adviser and presidential son-in-law
Jared Kushner
.
Pence did most of the talking, and his main message was crystal clear as he repeatedly drove it home.
"The Democratic leadership in the
House and Senate
informed us there'd be no negotiation until the federal government was open," Pence said in his ceremonial office across the street from the
White House
. "Fortunately, they went ahead and had conversations with us (over the weekend). But their position has been very clear: They refuse to negotiate until the federal government opens."
The vice president, a former GOP House leader, said senior Democratic aides informed Pence and his team that they came to the
Eisenhower Executive Office Building
Saturday and Sunday without authorization to negotiate.
Yet, Pence and Nielsen spent a healthy chunk of the session with reporters touting a document sent Sunday to lawmakers spelling out the administration's new 7-billion-dollar border security request. It includes Trump's 5.7-billion-dollar border barrier demand. But, as Pence said several times, it also includes a number of things the Democratic staffers indicated their members want in any final deal.
That document includes these requests Pence on Monday labelled "consensus items," which Trump administration officials and the Democratic staffers agreed to over the weekend.
The list features a 4.2-billion-dollar ask for 52,000 beds for detained migrants, 800 million dollars to meet "urgent humanitarian needs" like medical support and "consumable" supplies. It also includes a 675-million-dollar request for technologies to "deter and detect more contraband" like drugs and weapons - even items that pose "nuclear and radiological threats," according to the document.
Though Pence contended the two sides have yet to negotiate, that 675 million dollars was increased over the weekend in what he described as mere "discussions" by 631 million dollars. The initial request for that equipment came from Democratic congressional leaders during a recent meeting with Trump, but it was only for 44 million dollars worth of tools.
The vice president at several points refused to call reaching that agreement the product of a formal negotiation, but dubbed it "progress." And despite agreeing to those things, a sometimes-animated Pence repeatedly charged that Democratic leaders refuse to hold serious talks.
"When are the
Democrats
going to start negotiating? We really believe we can address these issues now," he said of the border barrier funding request and the administration's other security requests. "We stand ready to sit down with Democratic leadership."
Pence said his boss has extended an invitation to Democratic leaders inviting them back to the
White House
- they were there twice last week for unfruitful talks - and to make a counteroffer to the president.
Yet, at one point in the pen-and-pad briefing - there were no television cameras allowed - Pence said the
White House
has indeed been in negotiations.
"We've been negotiating. Now, our position is there is a crisis on our southern border," he said. "We've been negotiating to open the government and address that border crisis. And also taking steps to mitigate the impacts of that shutdown."
Democratic congressional sources claimed to be confused by Pence's stance that their side refuses to negotiate. One source said negotiations cannot move forward in a meaningful way, unless the president signals he will accept less than the 5.7 billion dollars he is demanding for his proposed border structure, describing the
White House
as "dug in."
Asked about a handful of
Senate Republicans
- all from light red or purple states and facing re-election in 2020 - who have broken ranks to call on Trump to compromise and get the shuttered agencies open, Pence said he has been in touch with each one.
Pence also told reporters the president has yet to make a decision on whether he might declare a national emergency at the border, a process that would allow him to potentially shift already allocated funds to pay for it - but spending-focused committees would have to sign off and a court challenge would be likely.
Acting White House Budget Director
Russell Vought
announced the administration will issue tax refunds even if the
Treasury Department
remains shuttered. Guidance to reverse previous administration's rules to the contrary are being written, he said.
And when the vice president was asked if there is a point at which hardship being thrust upon the 800,000 federal workers who soon will stop getting paid will, for Trump, outweigh his feelings that a border wall is essential, Pence replied: "I hope we don't find out."