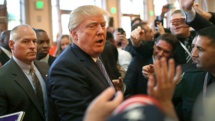 The decision to declassify the hotly contested memo, described by critics as inaccurate and misleading, was made in conjunction with US President Donald Trump's national security team, the White House said.
The team includes "law enforcement officials and members of the intelligence community, for whom the President has great respect," the White House said in a statement.
The memo alleges officials involved in the investigation preferred Democrats over Republicans in the run-up to the 2016 election, and accuses the FBI and Justice Department of misleading a judge in an effort to extend a surveillance warrant against a Trump foreign policy advisor.