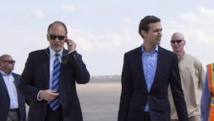 Also in the meeting, which among other issues looked at the situation in the Gaza Strip, was Trump's adviser on Israel, Jason Greenblatt.
"Building on previous conversations, they discussed increasing cooperation between the United States and Jordan, regional issues, the humanitarian situation in Gaza, and the Trump Administration's efforts to facilitate peace between the Israelis and Palestinians," a statement said.
Israeli media reported earlier that Kushner could present to Jordanian officials the US administration's peace plan for Israel and the Palestinians.
Trump's decision to move the US embassy from Tel Aviv to Jerusalem in May sparked protests among Palestinians who expressed anger towards Washington and Israel.
Israeli forces killed dozens of Palestinian demonstrators near the Gaza border fence.