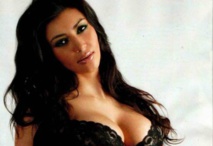 "She is expected to be here at the White House. I can confirm she'll be here," White House press secretary Sarah Sanders told reporters. "We'll keep you posted on any meetings that take place, and what those look like."
The briefing followed widespread reports in celebrity media that Kardashian would be at the White House to lobby for a pardon for Alice Marie Johnson, a 63-year-old great-grandmother who has already served more than 20 years in prison on a life sentence without parole for a first-time drug offence.
Vanity Fair magazine reported that Kardashian would meet with both Jared Kushner, Trump's son-in-law and senior adviser, and the president.
Kardashian, a social media force with some 60 million Twitter followers, tweeted birthday greetings Wednesday to Johnson.
"Today is for you," Kardashian wrote, with a praying-hands emoji.
Trump, who regularly tweets exhortations to his supporters while blasting critics, has 52.3 million followers on the social media platform.
Kardashian is married to music star Kanye West, who set off a social media furore last month by tweeting that Trump was his "brother," with whom he shared "dragon energy."
Kardashian distanced herself from West's tweets at the time, saying: "Now when he spoke out about Trump ... Most people (including myself) have very different feelings & opinions about this."