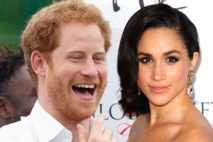 London -
When Prince Harry's relationship with US actress Meghan Markle first became public in late 2016, the British royal felt compelled to make a rare and impassioned plea for an end to the "wave of abuse" against her.
Harry said he was concerned about coverage including "the smear on the front page of a [British] national newspaper; the racial undertones of comment pieces; and the outright sexism and racism of social media trolls and web article comments."
Markle describes herself as "a strong, confident mixed-race woman," and has written online about racism experienced by her African-American mother.
As international media are accused of the intrusive pursuit of her family, many observers wonder what the future could hold for Britain's highest-profile mixed-race couple.
Chamion Caballero, an academic and the director of the Mix-d Museum digital archive of racial mixing in Britain, believes the marriage reflects rising tolerance, but she has doubts about whether it will catalyse major changes in attitudes to race.
The co-author of a new book, "Mixed-race Britain in the 20th century," discussed the couple's potential effects on race and the monarchy in Britain with dpa.
"The engagement has certainly shone a spotlight on both people of mixed race and mixed race relationships," Caballero said.
"So I think it is fair to say that, given the coverage so far, there is likely to be increased public discussion of the status of black and mixed race women - and, relatedly at times, men - in Britain, along with their visibility. For example, in addition to Meghan herself, we've also seen her black American mother attract significant attention and commentary.
"But as for making any link between the relationship and any actual, tangible change in status of black/mixed-race women, I'm not convinced," she said.
"I think [writer] Sathnam Sanghera's comment about being sure that 'Meghan Markle will eradicate racism in Britain in the way a black president really solved all racism problems in the US' is probably on the money!"
Caballero said she believed that "Harry was certainly right to criticize the media's early approach to Markle's racial background."
"While the inevitable frantic media frenzy was in many ways comparable with coverage of previous royal girlfriends and certainly whipped up further by Markle being a celebrity in her own right, as well as a divorcee, it was also undoubtedly heightened by the often prurient interest in Markle's racial background and the interracial aspect of the relationship," she said.
"The casual comments about Markle's 'rich and exotic DNA,' thickening the 'watery thin, blue blood' of the Windsors; her background being 'almost straight Outta Compton;' her family going from 'cotton slaves to royalty' ... the comments on Harry falling in love with Africa long before he fell in love with Meghan, etc, etc, all echo longstanding stereotypes and tropes of mixed-race women in Britain."
Cabellero cited US-based sociologist France Winddance Twine, who noted "how white parents of mixed-race children can develop a strong sense of racial awareness and what she has labelled 'racial literacy'."
"Certainly, it's interesting to note that it is Harry, rather than Meghan, who was the one to call the press out on their racism," Caballero said.
She noted that Harry's new "awareness and confrontation is far removed from the distinct lack of racial literacy he showed in his younger years, when he was forced to apologize for wearing a Nazi costume at a fancy dress party as well as for using the terms 'Paki' and 'raghead' in conversation with fellow cadets during his military training at Sandhurst."
"The pair have also visited a radio station in Brixton, an area of London synonymous with the black British community, which was their second official outing as an engaged couple," she said.
"At this visit, they received a rapturous reception from the multiracial crowd waiting outside but reports indicated a range of local opinions on the couple's motives for visiting the area as well as on what the couple mean for Britain and race as a whole, from the cynical, to the celebratory, to the indifferent.
"We may never get to know what Meghan, Harry, their families and the monarchy more widely really think of their interracial relationship, but I think it's fair to say that there will be plenty more media coverage on the matter over the coming years, which ... will tell us a great deal about British attitudes towards, race, racism and racial mixing," Caballero said.
"I imagine the varying reactions will continue throughout their marriage and [will] very much depend on how Meghan wears her hair, what comments she makes or does not make about racial issues and prejudice, as well as what any children look like."