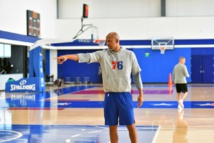 At some point this week, Pelinka also is expected to meet with
Juwan Howard
, his former college teammate at Michigan. Howard played for the
Miami Heat
from 2010 to 2013 and, upon retiring, joined Heat coach
Erik Spoelstra's
staff. He also is expected to interview for the Cavaliers' head coaching job.
That job belonged to Lue until he was fired after an 0-6 start this season. Rumours have persisted that he's the Lakers' top choice. Lue coached
LeBron James
in
Cleveland
and they won a championship together in 2016 during his first season as coach.
While Pelinka is in charge of the coaching search, the Lakers don't appear to be pursuing any additional front office executive to fill the void left by
Magic Johnson's
abrupt resignation. That could change since people familiar with the organization said owner
Jeanie Buss
was shocked at Johnson's resignation and has taken the last week to determine how to proceed.
Johnson and Buss spoke after Johnson held an impromptu news conference to resign before the Lakers' final game of the regular season, without offering any warning to Buss.
Buss hired Johnson, a man she considers family, in spring 2017 after firing general manager
Mitch Kupchak
and removing her brother Jim from his role as executive vice president of basketball operations. She created a different position for Johnson - president of basketball operations. Johnson and Pelinka, who previously was
Kobe Bryant's
agent, worked together for around 2 seasons.
When Johnson quit, he gave three reasons. He said he was tired of the "backstabbing and whispering" that comes with the job, he said he wanted to be free to communicate with players on other teams, and he said he didn't want to ask Buss to fire
Luke Walton
, who spent three seasons as the Lakers' head coach.
Three days later, the Lakers and Walton mutually agreed to part ways, with another job waiting for Walton in
Sacramento
. The Kings announced Walton as their head coach Monday.