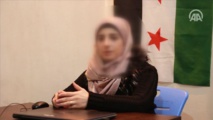 Survivor says they were sleep deprived, hanged from ceiling, burned in Syrian regime prisons

Very few victims are able to muster the courage to speak about their ordeal.
"They said I texted someone they were looking for [...] I spent time in different detention centers for nearly four months. I experienced some of the worst tortures," she said, as her eyes filled with tears.

'Like a slaughterhouse'
She spent time in prisons in Homs and Damascus.
All these prisons seemed just like slaughterhouses, she said.
However, the worst was the Military Security branch in Homs.
Adding that her brother was also detained and killed by torture in 2012, she recalled her own experiences.
"We wished we were dead a thousand times a day. I stayed with 40 women in a small room. It was boiling hot, we could not breathe.
"We were not allowed to sleep more than 1-2 hours a day. We were exhausted, psychological violence was much worse than physical. They did all of this knowingly, we saw people die in front of us," she said.
They were interrogated and beaten up making them confess to crimes they had never committed.
"They used to burn us with cigarette butts. They hung us to the ceiling by our arms and just left us there for hours. They electrocuted some of my best friends in those prisons," she recalled.
"Whenever they took me for interrogation, they told me if I listened to them I would not be tortured. But I resisted and experienced many tortures. I was a strong woman, but the torture made my whole body shake to the core," she said.
"There was no humanity in the regime's prisons. It was a cemetery for the living. They would torture young people in front of our cells," she said.
Bashar al-Assad has not been punished for his horrific crimes, and the international community remains ineffective and silent, she added.

Freedom
Um Muhammad was released during a prison exchange between the opposition and regime forces in September 2013.
She said she will always support the Syrian revolution, and the tortures that she experienced will not turn her from her cause.
She also regards everyone in Bashar al-Assad's prisons as her brothers and sisters, and she will always defend their rights.
Since March 2011, when the people's revolution started in Syria, 14,253 people were killed by torture by Assad regime forces, according to a report by the Syria Network of Human Rights (SNHR).
Of those, at least 173 were children, 46 were women.