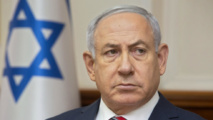 The defence had pushed for a delay of the witness stage, and for fewer sessions a week.
It remains unclear whether the increasingly embattled Netanyahu will be required to be present at each hearing. That would blow wind into the sails of opponents, who charge he cannot run the country while being tied up in court defending his innocence three days a week.
The second court session after a two-month hiatus came as Netanyahu and his cabinet face growing outrage over their handling of a second wave of coronavirus infections sweeping over the Mediterranean country of 9 million inhabitants.
While the total number of deaths - 406 as of Sunday - remains relatively low, a record of nearly 2,000 new cases in one day was confirmed on Friday amid widespread testing.
Netanyahu claimed credit for Israel's success in containing a first wave of the virus. He'd reacted swiftly by imposing a strict lockdown in mid-March. Amid the lockdown, the 70-year-old had succeeded in postponing the start of his trial from March 17 to May 24.
But in now weekly mass protests, furious Israelis accuse Netanyahu and his "bloated" and "wasteful" unity cabinet with Defence Minister Benny Gantz of making "arbitrary," last-minute decisions to tighten, ease and then tighten again restrictions on businesses such as restaurants, gyms and pools.
Thousands gathered after sunset on Saturday in a park along Tel Aviv's southern seashore, at a site allocated by the police. Organizers had called for a peaceful rally, but many furious protesters marched to the city centre, blocking roads and clashing with police until the early hours of Sunday.
In Jerusalem, police used watercanons against protesters from the "Black Flags" anti-corruption, anti-Netanyahu grass-roots group.
Fifteen protesters were arrested in Jerusalem and 13 in Tel Aviv, Police Spokesman Micky Rosenfeld said.
Israel's longest-serving prime minister, who has survived in office following six elections in just over a decade in the multi-party democracy, was formally charged with bribery, fraud and breach of trust in January. The now weekly mass protests are among the greatest challenges he has faced.
Netanyahu, slamming the "left-wing" rallies, published a photo on Twitter on Sunday in which he encircled a Palestinian flag being waved in the crowd, above which he wrote: "Shame and Disgrace."
The premier, himself not present in court, was represented by a newly hired attorney, Yossi Segev, who explained to the judge that he temporarily replaced the premier's previous attorney, Micha Fettman, due to a "funding problem."
Fettman left Netanyahu's defence a week ago, after Israel's attorney general ruled the premier may not receive funding by a US benefactor for his legal representation.
Critics charged the change of lawyers was a delay tactic, as were requests by the defence for more time, because transcripts of thousands of hours of recordings typed up by the state prosecution were unclear.
Netanyahu allegedly accepted expensive gifts and attempted to improve press coverage by offering political favours to wealthy businessmen and media moguls. He has denied any wrongdoing and says the charges are politically motivated by a prosecution seeking to oust him.