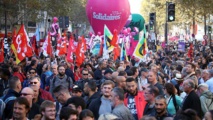 Some of the around 40 participants in the roadblock in the town of Pont-de-Beauvoisin, to the north of the city of Grenoble in south-eastern France, were drumming on the woman's car, according to the local official. She panicked and stepped on the accelerator.
Several accidents resulting in injury took place at locations throughout France linked to the protests.
France was expecting a country-wide wave of protests. Castaner spoke of more than 1,000 protests with an estimated 50,000 participants.
A movement on social media - apparently without any central leadership - had called for protesters wearing yellow high-visibility jackets to take to the streets.
Some of the hundreds of social media events called for roadblocks, while "snail operations" - where protesters intentionally drive slowly across multiple lanes on highways - are also expected.
Newspaper Le Monde reported on Friday that while about 1,500 events were expected, only 100 had been declared to local authorities, a legal requirement in France.
An additional 3,000 security staff were deployed throughout France, French broadcaster BFMTV reported, citing police sources.
President Emmanuel Macron's government has given a mixed reaction.
On the one hand, Prime Minister Edouard Philippe has announced incentivizing measures to aid motorists, including a 4,000-euro (4,559-dollar) grant for poorer families to replace older, less fuel-efficient vehicles.
But, on the other hand, Castaner has warned that security forces will take action anywhere protesters block traffic.
Philippe has also ruled out any changes to government plans to raise fuel taxes by 4 euro cents per litre for petrol and 7 cents for diesel.
An online petition against the tax rises on the website change.org has received support from more than 800,000 people.
Some Macron supporters have accused far-right leader Marine Le Pen's National Rally of hijacking the movement. Two major trade unions have also refused to join the protests, citing the involvement of the far right.
But opposition figures from the centre-right and left have also backed the protests.
Notepad