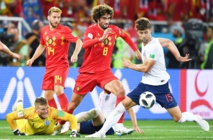 Moscow -
The continuation of the title holder curse and the at times controversial debut of the video assistant referee (VAR) came together in Germany's stunning group stage exit at the World Cup in Russia.
The past two tournaments had also seen the holder go out early in the form of Italy and Spain but no one had imagined that the Germans would suffer the same fate after their 2014 glory, given that they had only gone out at the first stage once before - 80 years ago.
Germany's fate however highlighted the problems of the pre-tournament favourites as Argentina almost went out as well, Spain were far from convincing after Fernando Hierro replaced sacked Julen Lagetegui two days before the first match, Brazil only got on track with a stoppage time win, and France were also far from glorious.
Instead it was the resilience of the smaller teams that caught the attention, such as Mexico shocking the Germans 1-0, Argentina held 1-1 by Iceland or Morocco holding Spain 2-2.
Dark horses Belgium boasting Eden Hazard and Croatia with Luka Modric were the only teams to win all three games, with Croatia thrashing Argentina 3-0. England, boasting tournament top scorer Harry Kane with five goals, also looked good.
Cristiano Ronaldo scored a hat-trick in the first game for Portugal but was lucky not to be sent off against Iran where he also missed a penalty; just as Lionel Messi against Iceland before scoring when it mattered against Nigeria; and Brazil's Neymar making more headlines for play-acting than his late goal against Costa Rica.
The VAR played its role in all of this, revealing Neymar's infamous dive, confirming the first South Korean goal against Germany which sealed the fate of the holders, and overall leading to an all-time tournament record 24 penalties even before the final 16 of 64 games in the knock-out stages.
"There are no more small teams, all are well-prepared," France coach Didier Deschamps said. "It is unusual to see so much difficulties in the group stage but the small teams on paper are disappearing."
Russia's surprisingly convincing 5-0 in the tournament opener under the eyes of the nation's President Vladimir Putin delighted the hosts en route to a last 16 date with Spain but most matches were tight affairs.
Brazil only beat Costa Rica 2-0 from two stoppage-time goals, and Germany's tournament would have been even more embarrassing had not Toni Kroos curled home a 2-1 winner against Sweden five minutes into stoppage time which however didn't help in the end.
South Korea sealed Germany's fate with an injury-time 2-0, after VAR confirmed the opening goal from Kim Gwon Young and coach Joachim Loew readily admitting "we didn't deserve to retain the title."
The English media had a field day, with "Don't mention the VAR" a popular pun, a take on the line "Don't mention the war" from the famed British television comedy Fawlty Towers.
Others may have however thought likewise for different reasons, with Nigeria fuming that they were not given a penalty against Argentina despite a review, while no review at all prompted Serbia to lose all manners against Switzerland and Germany to have a lucky escape against Sweden.
While the ruling body FIFA insisted that VAR was a success, others highlighted inconsistencies after an originally encouraging start.
"An elbow means red," Iran coach Carlos Queiroz fumed after the Ronaldo incident. "That's what the rules say. They've spent tens of thousands of dollars [on the technology]. Five people are sitting there together and they don't see the elbow. Ah, leave me in peace."
Africa met disaster with no team in the last 16 for the first time since the round was re-introduced in 1986, with Nigeria, Egypt, Tunisia, Morocco and Senegal all out and Japan the only Asian team through, via the fair play rule, while Iran, Saudi Arabia, Australia and South Korea went out.
Europe had 10 of its 14 teams advance, South America four of five with only Peru out, and North and central American had only Mexico left after 122 goals, the average of 2.54 the sixth-lowest ever.