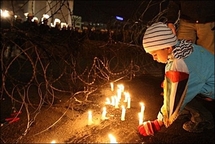 And in Washington, US Secretary of State Condoleezza Rice announced she was calling off a trip to China scheduled for later this week to deal with the crisis.
French President Nicolas Sarkozy, who starts a four-nation tour of the Middle East on Monday, said Hamas bore "a heavy responsibility" for the suffering of Palestinians in Gaza.
In an interview to be published Monday Sarkozy told three Lebanese newspapers that France condemned the Israeli ground offensive.
But he added: "I want to say again here that we condemn with the same firmness (Hamas') continuing rocket fire, which is an unacceptable provocation.
"Hamas, which decided to break the truce and to resume rocket fire on Israel, bears a heavy responsibility in the suffering of the Palestinians of Gaza," he added.
Sarkozy will be in Egypt, the West Bank and Israel on Monday and in Syria and Lebanon on Tuesday.
Egyptian President Hosni Mubarak has condemned "in the strongest terms" Israel's ground invasion of Gaza which his office called a "terrifying aggression."
Egypt on Sunday summoned the ambassadors of the UN Security Council's five permanent members to protest at its delay in passing a resolution for an end to Israel's onslaught, its foreign ministry said.
Late Saturday, the Security Council failed to agree on a statement calling for a ceasefire after the United States strongly backing Israel.
Jordan's King Abdullah II also insisted the UN Security Council act.
"The king demanded the UN Security Council immediately issue a decision to stop the aggression, open the border crossings and end the humanitarian crisis in Gaza," a palace statement said.
British Prime Minister Gordon Brown said Israel's ground offensive marked a "very dangerous moment" in the conflict, and called for increased efforts to rapidly secure a halt in the fighting.
I can see the Gaza issues for the Palestinians -- that they need humanitarian aid -- but the Israelis must have some assurance that there are no rocket attacks coming into Israel," he said.
Brown also called for Arab powers to unite to stop the supply of arms to Gaza and said Egypt's assistance would be crucial in shutting the illegal tunnels used to channel weapons to the enclave.
Earlier Sunday, Pakistan and China both called for an immediate end to the ground operation.
US President-elect Barack Obama maintained his silence on the latest events, having stressed that President George W. Bush was in charge until his inauguration January 20.
Russia described the ground offensive as a "dangerous escalation" and sent President Dmitry Medvedev's special envoy for the Middle East, Alexander Saltanov, to the region.
"It is essential, without delay, to put an end to the suffering of the civilian population on both sides, to stop the bloodshed and secure a mutual ceasefire," the Russian foreign ministry said.
As an EU ministerial delegation travelled to Cairo to start a whistle-stop tour which will also include Jerusalem and Ramallah on the West Bank, EU foreign policy chief Javier Solana said European nations stood ready to contribute international monitors to help keep peace.
"The ceasefire has to be a ceasefire complied (with) by everybody and be clearly maintained," Solana told the BBC.
More than 500 Palestinians, including 87 children, have died in Israel's nine-day offensive on Hamas targets in the Gaza Strip, medics said on Sunday.
Rocket fire from Gaza over the same period has killed four Israelis and Israel announced its first military death of the conflict on Sunday.
------------------------
Image of a young boy placing a lit candle behind barbed-wires as Lebanese riot police stand guard in front of the Egyptian embassy, by Anwar Amro.