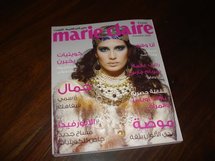 A story on Saudi women's football, in which players are clad in trousers, long sleeves and headscarves, was allowed in full in Jeddah but not Riyadh.
"Our problem is reconciling local culture with the Marie-Claire concept, which is no piece of cake," said Laurence Hembert Wermus, who heads international development for the magazine, a touch less glam than rival Elle.
"Given the economic context, there's no point in launching new magazines in France, but publishers can develop editions internationally, and the Middle East is definitely a growth market," said Sophie Renaud, who runs the media consultancy Carat France.
"At home, developing internationally shows readers that the publication is dynamic, that it has ideas and convictions, that it's striving towards change for women," Renaud told AFP.
Yet in many of these new markets, it remains impossible to run photographs of naked women or stories on a gammut of sexual practices. Last April, the French-language Africa newsweekly Jeune Afrique was banned in the UAE because of a cover picture showing a naked woman's back to illustrate a feature story on "Moslems and Sex".
------------------------------------------------------------------------------------------------------------------------------
-- 'In Arabia it's even stricter' --


So for magazines such as these which over the decades have backed feminist causes, taking root in the Arab world without negating their ideals remains a tricky exercise.

"We are very careful not to provoke uselessly, we don't want to be banned. It would neither help social progress nor the status of women," said Jean de Boisdeffre, who heads the international media arm of Elle owner company, Lagardere Active.

The magazine for example refrained from running a story on French President Nicolas Sarkozy's controversial call to ban the burqa. "It would've been provocative and could've prompted readers to link the magazine with French policy," he said.

Publication of pictures varies from country to country, said Marie Claire's international editorial manager Florence Duluard.

"In the Emirates we avoid pictures on the fashion pages of girls in very mini skirts or necklines that plunge to their navels. In Arabia it's even stricter -- no necklines and no knees."

Both magazines have hired local journalists to provide content with a brief to highlight local designers and issues as well as the big-name fashion labels so popular in the Middle East.

"They know how to broach a subject," said Elle's de Boisdeffre, who added that 80 percent of the magazine was formulated in the region. "And we have enough fashion stories produced elsewhere to be able to choose garments that will please the tastes of all readers," he added.

Next month's Saudi edition of Marie-Claire, distributed largely via partner Al Wataniya's subscriber base, is to run a story on women photographers in the kingdom.

"We do talk about problems in couples or women who are depressed," added its editorial manager Florence Duluard, "But we never tackle these issues head-on, we take them on sideways, like asking 'How to take a positive approach to the couple?' instead of stating that a woman has problems because her husband doesn't satisfy her."

"We recently published a feature on hammams that enabled us to evoke a whole series of issues -- relations between men and women, between parents and children, and sexuality," said de Boisdeffre.