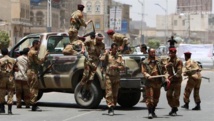 The UN described the deal between the Yemeni government and Houthi rebels as "important progress" on the ceasefire agreement made in Stockholm last year.
As part of phase one, the UN expects that the Yemeni government and Houthi rebels will move out from the key ports of Hodeidah, Salif and Ras Issa, as well as from critical infrastructure such as the Red Sea Mills, as part of the first phase of redeployment, UN spokesman Farhan Haq told reporters in New York.
Haq said he hoped the agreement would come into effect immediately.
The parties also reached a tentative agreement on a second phase of withdrawal, but still need to go back to their respective leaders to confirm the terms, Haq said.
The truce agreement for Hodeida included a province-wide ceasefire and the withdrawal of Houthi fighters.
It went into effect on December 18, following UN-sponsored peace talks in Sweden between the Iran-allied Houthi rebels and the Saudi-backed government.
However, there has been a hold-up in the withdrawal of fighters and both sides blame each other for breaching the ceasefire.
Hodeida has been a major sticking point between the government and the Houthis. The city and its vital port have been under rebel control since late 2014.