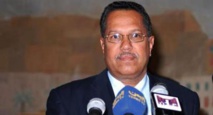 The accusation came as government forces and separatist gunmen clashed in the southern city of Aden, the seat of bin Daghar's government, leaving at least 12 people dead and dozens injured, according to local hospitals.

The new front in one of the Arab world's poorest countries only deepens the misery in a country that has been locked for nearly four years in a devastating feud between the Saudi-backed government and Iranian-allied Houthi rebels, who control the capital, Sana'a.
"In Sana'a, the coup against the republic is deepening," the prime minister said Sunday in a Facebook statement. "Here in Aden, a coup against legitimacy and the project of the federal state is under way. Yemen is being torn apart."
Bin Daghar also called on a Saudi-led coalition fighting the Houthis to intervene and stop the unrest in Aden. He warned that violence in Aden benefits the Houthis and Iran, who are nemeses of Saudi Arabia.
Local residents said the clashes stopped later Sunday after separatist insurgents seized a government building and a military outpost in the district of Khor Maksar.
The violence started early Sunday after government forces loyal to President Abd Rabu Mansour Hadi prevented separatist rallies in Aden, officials and witnesses said.
Last week, southern separatists gave Hadi a week-long deadline to replace the government, which they accused of corruption and incompetence. The deadline expired on Sunday.
The prime minister, who took office in 2016, has hinted at his readiness to step down.
"The post of the prime minister cannot be accepted or kept on the bodies of Yemenis," he said Sunday.
On Friday, the government banned public gatherings and protests in Aden, which has been Hadi's power base since the Houthis seized Sana'a in late 2014.
Yemen's feud has worsened since Saudi Arabia started an air campaign in March 2015 in support of Hadi against the Houthis.
Last year, Aidarous al-Zubaidi, a former Aden governor, declared the creation of the self-styled Southern Transitional Council, a body advocating the secession of southern Yemen from the north.
The move has raised fears of further turmoil in Yemen.