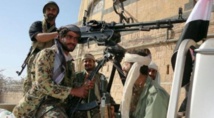 "The Houthis' announcement of their redeployment at the Hodeida port and transferring it to elements affiliated to them is a rejected and unacceptable matter," said Askar Zaeel, a government official.
"This step lowers peace opportunities and unmasks intentions of the militia [Houthis] and its swift efforts to undermine the UN-sponsored agreement," he told the official news agency Saba.
Earlier this month, Yemen's warring sides reached a ceasefire agreement on Hodeida at UN-sponsored talks in Sweden.
The deal was seen as a breakthrough in efforts to end Yemen's four-year war, which has claimed thousands of lives and pushed the impoverished country to the brink of famine.
Zaeel, who participated in the Sweden talks, said the deal makes it "unequivocal" that the management of Hodeida's three ports and their security are the responsibility of government agencies.
Last week, a UN monitoring team, led by retired Dutch general Patrick Cammaert, arrived in Hodeida to oversee the ceasefire that went into effect on December 18 amid accusations of breaches by both sides.
Hodeida is of strategic importance because of its port, which is the entry point for some 80 per cent of Yemen's imports and aid.
The Red Sea city has been under rebel control since late 2014.