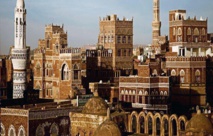 The STC, which is seeking independence for southern Yemen from the north, accused the government of corruption and foot-dragging in implementing a power-sharing deal brokered by Saudi Arabia and signed last November.
Yemeni Foreign Minister Mohamed al-Hadhrami on Sunday denied the STC accusations.
"The so-called Transitional Council keeps refusing to allow reason to prevail and to implement what was agreed on in the Riyadh agreement," al-Hadhrami said on Twitter.
"The council alone will be responsible for the dangerous and catastrophic consequences of this declaration," he added.
Local authorities in several southern provinces expressed opposition to the STC move.
"The council's declaration constitutes a violation of legitimacy and the Riyadh agreement as well as an irresponsible act," the governing authorities in the government-controlled province of Hadramout said in a statement.
Witnesses said pro-STC forces have deployed in large numbers in Aden.
The STC, supported by the United Arab Emirates, has been in control of Aden since August last year after its loyalists overran the city, forcing the government to move to Riyadh.
Protests erupted Saturday in the city against inefficient services, the witnesses added.
Aden was recently hit by floods that left at least 10 people dead and caused massive damage.
The STC separatists and the government are part of a Saudi-led coalition fighting Iran-linked Houthi rebels in Yemen.
The government was forced out of Yemen's capital Sana'a in a devastating power struggle with the Houthis in late 2014.