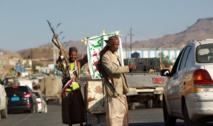 The head of a UN team overseeing a ceasefire and the redeployment agreement in Hodeida, Michael Lollesgaard, verified the redeployment after visiting the ports of Hodeida, al-Salif and Ras Eissa.
Lollesgaard welcomed the move, according to a statement by the UN.
He urged the warring parties to finalize outstanding negotiations to allow for a full implementation of further steps of the Hodeida agreement, signed in December following UN-brokered talks between the Houthi rebels and the internationally-recognized government.
Yemen's Iran-linked Houthi rebels said on Sunday they carried out a unilateral pull-out from the three ports, but Yemen's Saudi-backed government dismissed the move as a sham.
The western province of Hodeida is of strategic importance because of its main port, which is the entry point for some 80 per cent of Yemen's imports and aid.
"Full implementation of this agreement is critical for returning peace and stability to Yemen, and ensuring effective humanitarian access into the country where millions continue to be in need of life-saving assistance," the UN added.
In the Jordanian capital Amman, delegations from the Yemeni government and the Houthi rebels started talks in Jordan on Tuesday to discuss the implementation of the economic provisions of Hodeida's ports.
Tuesday's meeting aims to discuss the management of revenues from three ports in the city and the use of the revenues to pay public sector salaries in the province and other parts in the country.
According to a UN-brokered agreement reached in December, revenues from the ports should be deposited at the central bank's Hodeida branch.
Houthi spokesman Mohamed Abdel-Salam said the meeting in Amman comes after "strenuous efforts and repeated obstacles."
In a tweet early Tuesday, he said he hoped salaries will be disbursed quickly to help alleviate people's suffering.
Yemen has been embroiled in a devastating conflict for more than four years. It has resulted in the world's worst humanitarian crisis and thousands of civilian deaths.