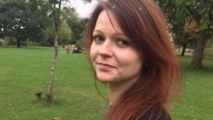 The younger Skripal, who was released from hospital on Tuesday, said she had "been made aware of my specific contacts at the Russian Embassy who have kindly offered me their assistance in any way they can."
Russia has repeatedly asked for access to Yulia, who is a Russian citizen, and has suggested the possibility she is being held against her will.
However, in a statement shared by Britain's Metropolitan Police, she said: "At the moment I do not wish to avail myself of their services, but, if I change my mind I know how to contact them."
Yulia said her father is "still seriously ill" and that she is also "still suffering with the effects of the nerve agent used against us."
The Skripals were found unconscious on a bench in the city of Salisbury on March 4 following exposure to Novichok, a military-grade Russian nerve agent.
The elder Skripal, a former colonel in Russian military intelligence, was convicted of selling Russian state secrets to Britain in 2006. He was traded to Britain in a high-profile spy swap four years later.
The attack aggravated an already strained relationship between Russia and the West, with London blaming Moscow for the poisoning of the double-agent and his daughter. The United States and more than 20 of Britain's other allies have sided with London by expelling Russian diplomats.
Russia has repeatedly denied any involvement and demanded access to London's case materials. Upon her discharge from hospital on Tuesday, the Russian Embassy tweeted: "We congratulate Yulia Skripal on her recovery. Yet we need urgent proof that what is being done to her is done on her own free will."
British media reported at the weekend that the Skripals could be resettled in the US and given new identities there for protection - but the Russian Embassy warned that such a move would be "another gross violation of international law."
Representatives of Britain's foreign intelligence service, MI6, had been in talks with their US counterparts at the CIA about the future of the Skripals, according to The Sunday Times.
In her statement, the 33-year-old Skripal praised the staff at Salisbury District Hospital for clinical expertise and kindness and said she finds herself "in a totally different life than the ordinary one I left just over a month ago."