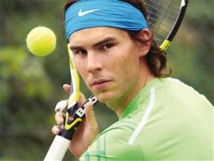 Zidane's departure came as a shock to Nadal after the 1998 World Cup winner guided his team to three successive European titles.
However, the 45-year-old told a news conference: "What I think is that this team needs to continue winning but I think it needs a change, a different voice, another methodology."
Nadal, who is aiming for his 11th French Open title at Roland Garros in Paris, described the news as 'tough' but thanked Zidane for being a great ambassador at a club he has followed since he was young.
"Of course it was a surprise for everybody," Nadal said after beating Guido Pella to advance to the French Open third round.
"But at the same time, Zidane is a top person," Nadal said. "It is tough to accept that he's leaving for different things."
"First thing - because he's a great coach and he was having a lot of success with our team," Nadal said. "Second thing - he's a good person, normal person, humble person. He represents, in my opinion, the right values."
Nadal said he understood the reasons for Zidane's announcement after the club endured a tough 2017-18 campaign in La Liga, which was won by rivals Barcelona.
"At the end of the year, he won the Champions League, but during the year - [it] has been a very tough year."
"He deserves to choose what's better for him," Nadal said. "I just can say thanks for all the things that he did for Madrid. I hope he will be back."