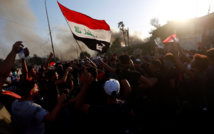 "We expect the immediate arrest and punishment of the attackers," said Foreign Ministry spokesman Bahram Ghassemi, adding that it was the duty of the Iraqi government to guarantee the security of diplomatic missions.
According to the spokesman, the attack on Friday was planned in advance with the aim of undermining the friendly relations between the two neighbouring countries.
Ghassemi also said that the consulate building had been suffered substantial damages, but that no diplomats or employees had been injured.