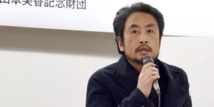 "I'm relieved to hear the news," the Japanese leader told reporters.
The Japanese government is hoping to confirm that the freed man is freelance journalist Jumpei Yasuda "as soon as possible," Abe added.
Yasuda went missing after entering Syria in June 2015 to cover the country's civil war. He had reportedly been held by a group linked to the al-Qaeda-associated Fatah al-Sham, previously known as the al-Nusra Front.
Spokesman Yoshihide Suga said the Japanese government planned to confirm the identity of the man, who was being held in an immigration facility in the Turkish city of Antakya at 3 pm (0600 GMT).
Tokyo was informed by authorities in Qatar that Yasuda has been released to Turkey, Suga told a news conference late Tuesday.
Suga thanked Qatar and Turkey for their assistance.
The Britain-based Syrian Observatory for Human Rights, a war monitor that has been documenting violence in Syria since 2011, said that a Turkish-Qatari deal led to the release of the man.
The watchdog said some reports from inside Idlib province indicated that a ransom was paid for his release.
Suga denied that Japan had paid any ransom.
Notepad