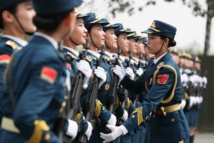 "There is no force that can shake the foundation of this great nation," President Xi Jinping, China's most powerful leader since Mao Zedong, said in a speech to open the event. "China tomorrow will be more prosperous," he added.
Troops marched in lockstep in an event set to showcase military jets and never-before-seen weapons.
After arriving in a limousine, Xi inspected the troops and arsenal, including the much-anticipated DF-41 intercontinental ballistic missile and stealth drones.
Xi called for maintaining "the long-term prosperity and stability of Hong Kong" under the "one country, two systems" principle.
The semi-autonomous city has been gripped by a months-long wave of anti-government protests which have been a source of embarrassment for Beijing.
Xi also spoke of the need to "unite all Chinese people, and continue to struggle for the complete reunification of the motherland," including Taiwan, the democratic island state which China considers its own territory.
The ruling Communist Party wants to use the occasion to show Chinese people and the world how much the country has progressed since October 1, 1949, when chairman Mao declared the founding of the new republic amid a civil war with the nationalists.
Mao oversaw a military parade on that day, too. More than 19,000 troops marched, but the arsenal on display was limited: only 17 aircraft flew above Tiananmen Square, according to an anecdote circulated in recent days in state media, and nine of them appeared twice to make the air force look bigger.
To international audiences, Xi aims to use the 70th-anniversary parade to showcase China as a superpower, said Zhu Lijia, a professor of public management at the Chinese Academy of Governance.
His message, according to Zhu: "Seventy years ago we were a very weak country, but today we are a great power."
Nevertheless, Xi faces headwinds on multiple fronts. Behind the scenes of this massive show, Beijing has been working to contain crises related to the anti-government protests in Hong Kong, the trade war with the United States and a crackdown on ethnic Muslim minorities in the Xinjiang region.
Hong Kong entered its 17th week of unrest as protests on Sunday descended into violence. Protesters set commercial streets on fire and police responded by using water cannon, tear gas and pepper spray against them. Multiple rallies are also planned for Tuesday, despite the police's banning of a formal protest.
As officials raised the Chinese flag at an early morning ceremony heavily guarded by police in the city on Tuesday, small protests were already under way, despite a police ban on a city-wide march.