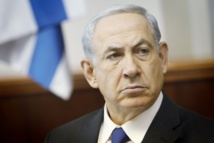 Brandishing a piece of what Israel insists was an Iranian drone that crossed into its airspace last week, Netanyahu said: "Israel will not allow the Iranian regime to put a noose of terror around our neck."
Iran has denied involvement.
Netanyahu warned that once Iran was armed with nuclear weapons, which would happen in any case once the current nuclear agreement expires, "Iran's aggression will be unchecked."
But in a combative address on the conference's last day, Netanyahu saw a positive side for Israel in improved relations with Arab states.
"The threat of Iran has brought Israel and Arab countries closer together," he said. "Arab states recognize Israel is no lodger their enemy but their ally."
Netanyahu held up a map to show that Iran was seeking to create an "empire" stretching to the Mediterranean by "colonizing" Syria and Lebanon.
Israel had its red lines, and one of them was to prevent a permanent Iranian presence in these countries, Netanyahu said.
"We will act not just against Iran's proxies but against Iran itself," he said. "I have a message to the tyrants of Tehran: do not test Israel's resolve."