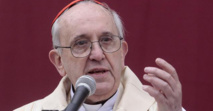 "Often we are tempted to believe that hatred and revenge are legitimate ways of ensuring quick and effective justice," the pope said at a Mass held at a sports complex in Rabat at the end of his trip.
"Yet experience tells us that hatred, division and revenge succeed only in killing our peoples' soul, poisoning our children's hopes, and destroying and sweeping away everything we cherish," he added in his homily.
"I encourage you to continue to let the culture of mercy grow, a culture in which no one looks at others with indifference, or averts his eyes in the face of their suffering," he said.
Earlier in the day, the pope voiced support for Morocco's Christian minority. "Christians are a small minority in this country. Yet, to my mind, this is not a problem," he said at the Catholic Cathedral of Rabat.
"The problem is not when we are few in number, but when we are insignificant, salt that has lost the flavour of the Gospel, or lamps that no longer shed light," he added, calling on them to engage in dialogue with others who are different.
Christians are a tiny minority in Morocco where 99 percent of the population is Muslim. The Vatican estimates that there are around 23,000 Catholics in Muslim-majority Morocco.
On Saturday, Francis met a group of migrants and urged the world to change its attitude towards migrants, as thousands have perished in recent years in their attempts to reach Europe.
He said the migrants should be seen "as persons, not numbers", and should enjoy their rights and dignity in daily life and in political decisions.
There are an estimated 100,000 migrants in Morocco where rights groups claim there have been cases of abuse against them.
The papal trip was the first by a pontiff to Morocco since then pope John Paul's visit in 1985.
Notepad